Thank you for your interest in the German-language subgroup of the Berlin chapter of the Booker Tea Reading Group. This subgroup has been meeting since 2012, and is currently a mix of German native speakers and non-native speakers who want to improve their German skills.
During 2018 we plan to meet on the second Sunday of each even-numbered month from 12 noon to 2 p.m. Changes will be posted below and/or discussed in the e-mail list. The discussions are held in private residences, so if you want to participate, you have to join the Berlin Chapter.
Books for this year are:
Sunday, 11 February 2018: Wie der Soldat das Grammofon repariert by Saša Stanišić (Deutschland) (carried over from December 2017)
Sunday, 8 April 2018 Cancelled! Außer sich: Roman by Sasha Marianna Salzmann (Deutschland)
Sunday, 10 June 2018: Der Tag, an dem mein Großvater ein Held war: Erzählung by Paulus Hochgatterer (Österreich)
Sunday, 12 August 2018 Rescheduled: Sunday, 26 August 2018: Die Kieferninseln by Marion Poschmann (Deutschland)
Sunday, 14 October 2018: Sechzehn Wörter by Nava Ebrahimi (Österreich)
Sunday, 9 December 2018: Widerfahrnis: Eine Novelle by Bodo Kirchhoff (Deutschland)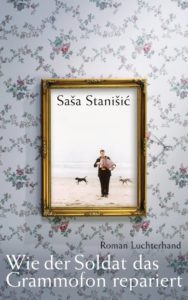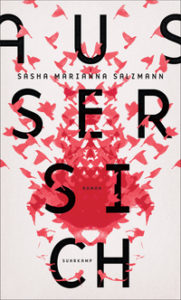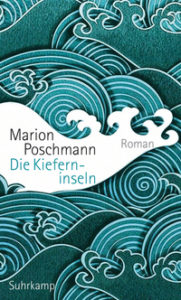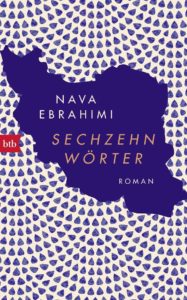 Below is a list of (some!) of the other books we've already read and discussed in German.
During 2017:
Tauben fliegen auf by Melinda Nadj Abonji (Schweiz)
Jericho: Eine Liebesgeschichte by Angelika Schrobsdorff (Deutschland)
Imperium by Christian Kracht (Schweiz)
Corpus Delicti by Juli Zeh (Deutschland)
Takeshis Haut by Lucy Fricke (Deutschland)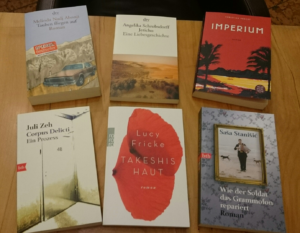 During 2016:
In Plüschgewittern by Wolfgang Herrndorf
Strom by Hannah Dübgen
Er ist wieder da / Look who's back by Timur Vermes; Jamie Bulloch (translator)
Taxi by Karen Duve
Die Biene und der Kurt by Robert Seethaler
Wunderlich fährt nach Norden by Marion Brasch
Previously:
Remember, discussions for this subgroup will be in German, so good reading and conversation skills in the language are recommended. (And that's the point, really.)