by Preeta Samarasan
Malaysia. 2008. 304 pages.
When the family's rubber-plantation servant girl is dismissed for unnamed crimes, it is only the latest in a series of precipitous losses that have shaken six-year-old Aasha's life. In the space of several weeks her grandmother died under mysterious circumstances and her older sister, Uma, left for Columbia University, gone forever. Circling through years of family history to arrive at the moment of Uma's departure—stranding her worshipful younger sister in a family, and a country, slowly going to pieces—Evening Is the Whole Day illuminates in heartbreaking detail one Indian immigrant family's layers of secrets and lies, while exposing the complex underbelly of Malaysia itself.
Sweeping in scope, exuberantly lyrical, and masterfully constructed, Preeta Samarasan's debut is a mesmerizing and vital achievement sure to earn her a place alongside Arundhati Roy, Kiran Desai, and Zadie Smith. Translation rights have been sold in fourteen territories.
About the author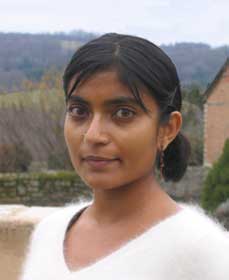 Preeta Samarasan was born in Malaysia and moved to the United States to finish high school at the United World College U.S.A, and attend Hamilton College. She was enrolled in a Ph.D. program in musicology at the Eastman School of Music, University of Rochester, and had begun work on a dissertation on Gypsy music festivals in France when she left to complete her novel. She earned her MFA in creative writing from the University of Michigan, where an earlier version of Evening Is The Whole Day won the Avery and Jule Hopwood Novel Award. She also recently won the Asian American Writer's Workshop/Hyphen Magazine short-story award.
Her short fiction and nonfiction has been published or is forthcoming in the Asian Literary Review, Five Chapters, Hyphen, the Michigan Quarterly Review, EGO Magazine, A Public Space, and in the anthology Urban Odysseys: KL Stories. She currently lives in central France with her husband and dog. (Text and credits: author's website)
Buy this book!
Evening is the Whole Day is available for immediate purchase via these links to our Amazon.com and Amazon.de shops. When you make a purchase via this website, a percentage of the price goes right back into site maintenance and development. Thanks for the support!