by Eshkol Nevo
Israel. 352 pages. 2007.
Four friends get together to watch the 1998 World Cup final. One of them has an idea: let's write down our wishes for the next few years, put them away, and during the next final – four years from now – we'll get them out and see how many we've achieved.
This is how "World Cup Wishes" opens, and from here we watch what happens to their wishes and their friendships as life marches on. The four men's bond is deep and solid, but tested by betrayal, death, and distance their alliance comes under pressure. Each friend offers a different perspective, though not necessarily a reliable one…and as they and the world around them change, so do their ideas of friendship and happiness.
By the end they are forced to ask whether wishes can really be fulfilled. Or will their story turn out to be a requiem – for a generation, for friendship, or even for one of the four young men?
Once again, Eshkol Nevo has produced a novel suffused with charm, warmth and an astonishing wisdom.
About the author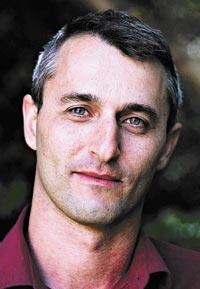 Eshkol Nevo was born in Jerusalem in 1971. He studied copywriting at the Tirza Granot School and psychology at Tel Aviv University. Nevo teaches creative writing and thinking at the Sam Spiegel Film & Television School, Tel Aviv University, Sapir College and the Open University.
Nevo has published a collection of short stories, a nonfiction book and two novels, both of which have been top bestsellers.
Nevo, whose novels are very successful abroad, has received the Book Publishers Association's Gold and Platinum Prizes (2005; 2008) and the FFI-Raymond Wallier Prize (Paris, 2008). Homesick was also a finalist for the prestigious Independent Foreign Fiction Prize (UK, 2009).
Order this book
When you order this book on Amazon.com or Amazon.de, a percentage of the price goes right back into site maintenance and development! Go ahead—buy your books and support TheBookerTea.com.