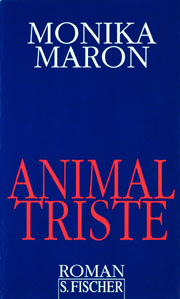 by Monika Maron; Brigitte Goldstein (translator)
240 Seiten
Verlag: FISCHER Taschenbuch (1. November 1997)
Sprache: Deutsch
ISBN-10: 3596139333
ISBN-13: 978-3596139330
(English translation and links below)
Die Erzählerin in diesem Roman erinnert sich zum letzten Mal an ihre Liebe, die ihr im Sommer 1990 begegnete, als sie nicht mehr jung war und noch nicht alt. Nachdem ihr Geliebter sie verlassen hat, zieht sie sich aus der Welt zurück und wiederholt seitdem die Zeit mit ihm als eine nicht endende Liebesgeschichte. Das Ende der Diktatur offenbart die Ordnung ihres Lebens als absurd, die gewonnene Freiheit fügt sich nicht mehr dem Ganzen, sondern stellt die früheren Lebensentscheidungen infrage. Die Liebe zu Franz, der jenseits der Mauer aufgewachsen ist, wird zur obsessiven Leidenschaft, die keinen Verzicht zuläßt und keine Rücksicht. Die Heldin des Romans beschwört die Liebe als letzte anarchische Sinngebung, die sich über jede Ordnung hinwegsetzt und ihre eigene errichtet.
Über die Autorin
Monika Maron ist 1941 in Berlin geboren, wuchs in der DDR auf, übersiedelte 1988 in die Bundesrepublik und lebt seit 1993 wieder in Berlin. Sie veröffentlichte u. a. die Romane ›Flugasche‹, ›Die Überläuferin‹, ›Stille Zeile sechs‹, ›Animal triste‹, ›Pawels Briefe. Eine Familiengeschichte‹, ›Endmoränen‹ und ›Ach Glück‹, außerdem mehrere Essaybände. Zuletzt erschienen die Reportage ›Bitterfelder Bogen‹ und die Essaysammlung ›Zwei Brüder‹. Sie wurde mit mehreren Preisen ausgezeichnet, darunter dem Kleist-Preis (1992), dem Friedrich-Hölderlin-Preis der Stadt Bad Homburg (2003), dem Deutschen Nationalpreis (2009) und dem Lessing-Preis des Freistaats Sachsen (2011). – von Fischer Verlag
ENGLISH
Animal Triste
135 pages
Publisher: University of Nebraska Press (March 1, 2000)
Language: English
ISBN-10: 0803282559
ISBN-13: 978-0803282551
In an autumnal love story of erotic obsession, possessiveness, remembrance, oblivion, and time, an elderly woman dwells upon a failed love affair of some time past, when she was no longer young but not yet old. The narrator relives meeting her lover, Franz, at the natural history museum, when, for the first time in her life, she experiences all-consuming love and absolute happiness. Ultimately the affair founders because of her inability to believe that Franz will actually leave his wife. After he disappears from her life, she withdraws from the world, waiting for his return and revisiting their time together over and over in a never-ending cycle of obsession. Her love for Franz becomes a compulsive suffering from which she can neither free herself nor withhold anything.
About the author
Monika Maron was borin in 1941 in Berlin, grew up in East Berlin, and moved to West Germany in 1988. Since 1993, she again lives in Berlin. Her published works include the "Flugasche", "Die Überläuferin", "Stille Zeile sechs", "Animal triste", "Pawels Briefe. Eine Familiengeschichte", "Endmoränen", and "Ack Glück", as well as several volumes of essays. She has won several awards, including the Kleist Prize (1992), the Friedrich Hölderlin Prize of the city of Bad Homburg (2003), the German National Prize (2009), and the Lessing Prize of the Free State of Saxony (2011).