by Richard Ford
Hardcover: 432 pages
Publisher: Ecco; First Edition (2012)
Language: English
ISBN-10: 0061692042
ISBN-13: 978-0061692048
"First, I'll tell about the robbery our parents committed. Then about the murders, which happened later."
Then fifteen-year-old Dell Parsons' parents rob a bank, his sense of normal life is forever altered. In an instant, this private cataclysm drives his life into before and after, a threshold that can never be uncrossed.
His parents' arrest and imprisonment mean a threatening and uncertain future for Dell and his twin sister, Berner. Willful and burning with resentment, Berner flees their home in Montana, abandoning her brother and her life. But Dell is not completely alone. A family friend intervenes, spiriting him across the Canadian border, in hopes of delivering him to a better life. There, afloat on the prairie of Saskatchewan, Dell is taken in by Arthur Remlinger, an enigmatic and charismatic American whose cool reserve masks a dark and violent nature.
Undone by the calamity of his parents' robbery and arrest, Dell struggles under the vast prairie sky to remake himself and define the adults he thought he knew. But his search for grace and peace only moves him nearer to a harrowing and murderous collision with Remlinger, an elemental force of darkness.
A true masterwork of haunting and spectacular vision from one of our greatest writers, Canada is a profound novel of boundaries traversed, innocence lost and reconciled, and the mysterious and consoling bonds of family. Told in spare, elegant prose, both resonant and luminous, it is destined to become a classic.
About the author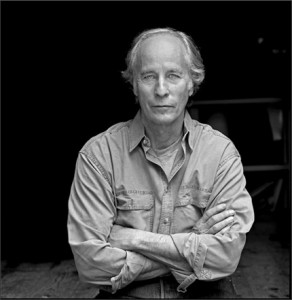 Richard Ford was born in Jackson, Mississippi in 1944. He has published six novels and four collections of stories, including The Sportswriter, Independence Day, A Multitude of Sins and, most recently, The Lay of the Land. Independence Day was awarded the Pulitzer Prize and the PEN/Faulkner Award for Fiction, the first time the same book had won both prizes. Richard Ford lives in Maine with his wife, Kristina Ford. Photo credit: Laura Wilson.
Buy this book!
Canada is available for immediate purchase via these links to Amazon.com and Amazon.de. When you make a purchase via this website, a percentage of the price goes right back into site maintenance and development. Thanks for the support!