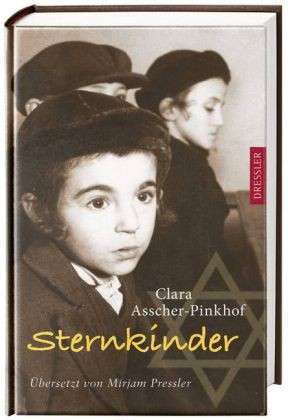 von Clara Asscher-Pinkhof
Broschiert: 285 Seiten
Verlag: Oetinger Taschenbuch (1. November 2012)
ISBN-10: 3841501206
ISBN-13: 978-3841501202
Vorw. von Erich Kästner
Ausgezeichnet mit dem Deutschen Jugendbuchpreis 1962
DEUTSCH: "Sternkinder": Das waren die jüdischen Kinder, die unter den Nationalsozialisten den Davidstern tragen mussten. Wie ihre Eltern und Großeltern erfuhren sie die Schrecken der Konzentrationslager – und verstanden doch oft nicht, was mit ihnen geschah. Clara Asscher-Pinkhof, die selbst deportiert wurde und nur durch großes Glück überlebte, beschreibt die Verfolgung durch die Augen der Kinder und findet so besonders eindringliche Bilder.
ENGLISH: "Star Children." Children with the yellow Jewish star. Asscher-Pinkhof, a Dutch teacher, novelist, and Jew who taught at the special schools that were set up for Jewish children during the War, tells in these brief fictive vignettes the storiestragic, brave, heroic, selfish, cruel, innocent of the young Dutch victims of the Holocaust whose childhoods were spent in detention centers, in transit camps, and finally in "Star Hells" like Bergen-Belsen, with only a few surviving to liberation. The stories are narrated as though seen through the children's own eyes, reflecting the stark, spare horror of their vision. Published in Holland in 1946 and just translated into English, this powerful document is worthy to stand beside Anne Frank's Diary . Highly recommended for general collections. – Marcia G. Fuchs, Guilford Free Lib., Ct.
Über die Autorin
Clara Pinkhof war das vierte von acht Kindern. 1919 heiratete sie Abraham Asscher, den späteren Oberrabbiner von Groningen. Asscher starb 1926 und Clara Asscher-Pinkhof hatte allein für ihre sechs Kinder zu sorgen. Ihren Lebensunterhalt bestritt sie fortan mit Vorlesungen sowie Kursen und publizierte ihre ersten Kindererzählungen, darunter Aan de wal, das 1932 als bestes Kinderbuch mit einem Preis ausgezeichnet wurde.
Nach der deutschen Besetzung der Niederlande kehrte sie 1940 nach Amsterdam zurück und unterrichtete an der jüdischen Mädchenschule (meisjes-industrieschool). 1943 wurde sie zunächst nach Westerbork und 1944 nach Bergen-Belsen deportiert. Im KZ gehörte sie zu einer Gruppe, die gegen deutsche Kriegsgefangene ausgetauscht wurde. Über Wien, Bulgarien, die Türkei und Jordanien erreichte sie danach Palästina.
Im Alter von 88 Jahren starb Clara Asscher-Pinkhof 1984 in Haifa.
Buy this book!
Sternkinder is available for immediate purchase via these links to Amazon.com and Amazon.de. When you make a purchase via this website, a percentage of the price goes right back into site maintenance and development. Thanks for the support!