by Tan Twan Eng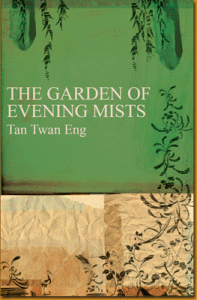 Paperback: 352 pages
Publisher: Weinstein Books (September 4, 2012)
ISBN-10: 1602861803
ISBN-13: 978-1602861800
Malaya, 1951. Yun Ling Teoh, the scarred lone survivor of a brutal Japanese wartime camp, seeks solace among the jungle-fringed tea plantations of Cameron Highlands. There she discovers Yugiri, the only Japanese garden in Malaya, and its owner and creator, the enigmatic Aritomo, exiled former gardener of the emperor of Japan. Despite her hatred of the Japanese, Yun Ling seeks to engage Aritomo to create a garden in memory of her sister, who died in the camp. Aritomo refuses but agrees to accept Yun Ling as his apprentice "until the monsoon comes." Then she can design a garden for herself.
As the months pass, Yun Ling finds herself intimately drawn to the gardener and his art, while all around them a communist guerrilla war rages. But the Garden of Evening Mists remains a place of mystery. Who is Aritomo and how did he come to leave Japan? And is the real story of how Yun Ling managed to survive the war perhaps the darkest secret of all?
About the author
Tan Twan Eng was born in Penang, but lived in various places in Malaysia as a child. He studied law at the University of London, and later worked as an advocate and solicitor in one of Kuala Lumpur's most reputable law firms. His first novel, The Gift of Rain, was long-listed for the Man Booker Prize and has been translated into Italian, Spanish, Greek, Romanian, Czech and Serbian. The Garden of Evening Mists is his second novel. He also has a first-dan ranking in akido and is a strong proponent for the conservation of heritage buildings. He currently lives in Cape Town, South Africa where he is working on his next book.
Buy this book!
The Garden of Evening Mists is available for immediate purchase via these links to Amazon.com and Amazon.de. When you make a purchase via this website, a percentage of the price goes right back into site maintenance and development. Thanks for the support!