by Han Kang, Deborah Smith (Translator)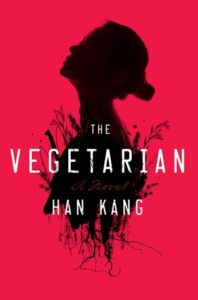 Hardcover, 192 pages
Published February 2nd 2016 by Hogarth (first published October 30th 2007)
Original Title: 채식주의자
ISBN 0553448188 (ISBN13: 9780553448184)
Available at your local bookstore and also via Amazon.de and Amazon.com.
Before the nightmare, Yeong-hye and her husband lived an ordinary life. But when splintering, blood-soaked images start haunting her thoughts, Yeong-hye decides to purge her mind and renounce eating meat. In a country where societal mores are strictly obeyed, Yeong-hye's decision to embrace a more "plant-like" existence is a shocking act of subversion. And as her passive rebellion manifests in ever more extreme and frightening forms, scandal, abuse, and estrangement begin to send Yeong-hye spiraling deep into the spaces of her fantasy. In a complete metamorphosis of both mind and body, her now dangerous endeavor will take Yeong-hye—impossibly, ecstatically, tragically—far from her once-known self altogether.
A disturbing, yet beautifully composed narrative told in three parts, The Vegetarian is an allegorical novel about modern day South Korea, but also a story of obsession, choice, and our faltering attempts to understand others, from one imprisoned body to another.
About the author
Han Kang is the daughter of novelist Han Seung-won. She was born in Kwangju and at the age of 10, moved to Suyuri (which she speaks of affectionately in her work "Greek Lessons") in Seoul.
She studied Korean literature at Yonsei University. She began her writing career when one of her poems was featured in the winter issue of the quarterly Literature and Society. She made her official literary debut in the following year when her short story "The Scarlet Anchor" was the winning entry in the daily Seoul Shinmun spring literary contest.
Since then, she has gone on to win the Yi Sang Literary Prize (2005), Today's Young Artist Award, and the Korean Literature Novel Award. As of summer 2013, Han teaches creative writing at the Seoul Institute of the Arts while writing stories and novels.
Source: https://www.goodreads.com/book/show/25489025-the-vegetarian