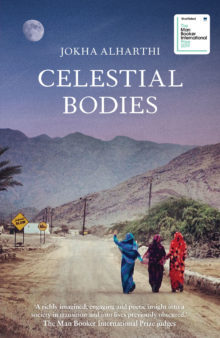 by Jokha Alharthi
Paperback: 256 pages
Publisher: Sandstone Press (21 Jun 2018)
ISBN-10: 1912240165
ISBN-13: 978-1912240166
Celestial Bodies is set in the village of al-Awafi in Oman, where we encounter three sisters: Mayya, who marries Abdallah after a heartbreak; Asma, who marries from a sense of duty; and Khawla who rejects all offers while waiting for her beloved, who has emigrated to Canada. These three women and their families witness Oman evolve from a traditional, slave-owning society slowly redefining itself after the colonial era, to the crossroads of its complex present.
Elegantly structured and taut, Celestial Bodies is a coiled spring of a novel, telling of Oman's coming-of-age through the prism of one family's losses and loves.
Buy now on Amazon or via your local English bookstore.
About the author
Jokha al-Harthi is an Omani writer and academic. She was educated in Oman and in the United Kingdom. She obtained her PhD in classical Arabic literature from Edinburgh University. She is currently an associate professor in the Arabic department at Sultan Qaboos University.
al-Harthi has published three collections of short stories and three novels (Manamat, Sayyidat el-Qamar and Narinjah). She has also authored academic works. Her work has been translated into English, Serbian, Korean, Italian, and German. She was also one of eight participants in the 2011 IPAF Nadwa (writers' workshop). al-Harthi won the Sultan Qaboos Award for Culture, Arts and Literature, for her novel Narinjah (Bitter Orange) in 2016.
Her novel Sayyidat el-Qamar was shortlisted for Zayed Award 2011. An English translation by Marilyn Booth was published in the UK by Sandstone Press in June 2018 under the title Celestial Bodies, and won the Man Booker International Prize 2019. – Wikipedia
About the translator
Marilyn Louise Booth is an author, scholar and translator of Arabic literature. Since 2015, she has been the Khalid bin Abdullah Al Saud Professor for the Study of the Contemporary Arab World at the University of Oxford and a Fellow of Magdalen College, Oxford.
Booth graduated summa cum laude from Harvard University in 1978, and was the first female winner of the Wendell Scholarship. She obtained a D.Phil. in Arabic literature and Middle Eastern history from St Antony's College, Oxford in 1985. She received a Marshall Fellowship for her doctoral studies at Oxford. She has taught at Brown University, American University in Cairo, and University of Illinois, Urbana-Champaign. She was director of the Center for South Asian and Middle Eastern Studies at UIUC. She currently holds the Iraq Chair of Arabic and Islamic Studies at the University of Edinburgh. – Wikipedia