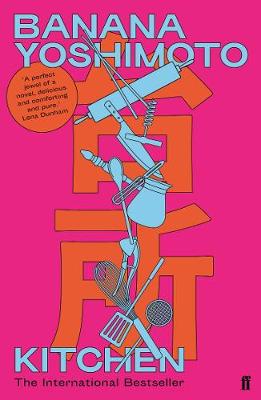 by Banana Yoshimoto
Paperback: 160 pages
Publisher: Faber And Faber Ltd.; Main edition (1 Mar 2018)
ISBN-10: 9780571342723
ISBN-13: 978-0571342723
Kitchen juxtaposes two tales about mothers, transsexuality, bereavement, kitchens, love and tragedy in contemporary Japan. It is a startlingly original first work by Japan's brightest young literary star and is now a cult film. When Kitchen was first published in Japan in 1987 it won two of Japan's most prestigious literary prizes, climbed its way to the top of the bestseller lists, then remained there for over a year and sold millions of copies. Banana Yoshimoto was hailed as a young writer of great talent and great passion whose work has quickly earned a place among the best of modern literature, and has been described as 'the voice of young Japan' by the Independent on Sunday.
Buy now on Amazon or via your local English bookstore.
About the author
Banana Yoshimoto is the pen name of Japanese writer Mahoko Yoshimoto. Born in Tokyo in 1964, she is the daughter of the famous poet and critic Takaaki Yoshimoto; her sister, Haruno Yoiko, is a well-known cartoonist in Japan. Yoshimoto graduated from Nihon University's Art College with a major in literature. While there, she adopted the pseudonym "Banana" after her love of banana flowers, a name she recognizes as both "cute" and "purposefully androgynous."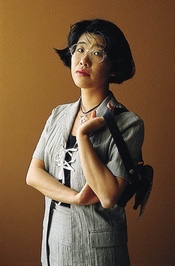 Yoshimoto began her writing career while working as a waitress at a golf club restaurant in 1987. She named American author Stephen King as one of her first major influences and drew inspiration from his non-horror stories. Her debut work, Kitchen (1988), had over 60 printings in Japan alone and has been adapted twice for cinema. In November 1987, Yoshimoto won the 6th Kaien Newcomers' Literary Prize for Kitchen; in 1988, the novel was nominated for the Mishima Yukio Prize, and in 1999, it received the 39th Recommendation by the Minister of Education for Best Newcomer Artist. In 1988, she also won the 16th Izumi Kyōka Prize for Literature, for the novella Moonlight Shadow, which is included in most editions of Kitchen.
Her works include twelve novels and seven collections of essays, which have together sold over six million copies worldwide. Her themes include love and friendship, the power of home and family, the effect of loss on the human spirit, as well as the problems faced by youth in contemporary Japan.
Outside Japan, she has been awarded prizes in Italy: the Scanno Literary Prize in 1993, the Fendissime Literary Prize in 1996, the Literary Prize Maschera d' argento in 1999, and the Capri Award in 2011. Her novel The Lake was longlisted for the 2011 Man Asian Literary Prize. – Wikipedia
Read an interview with the author on https://www.bananawriters.com/interviewbananayoshimoto