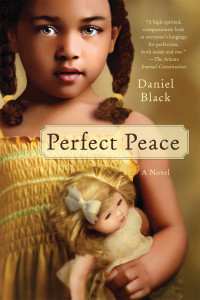 by Daniel Black
When the seventh child of the Peace family, named Perfect, turns eight, her mother Emma Jean tells her bewildered daughter, "You was born a boy. I made you a girl. But that ain't what you was supposed to be. So, from now on, you gon' be a boy. It'll be a little strange at first, but you'll get used to it, and this'll be over after while." From this point forward, his life becomes a bizarre kaleidoscope of events. Meanwhile, the Peace family is forced to question everything they thought they knew about gender, sexuality, unconditional love, and fulfillment.
"A high-spirited, compassionate look at everyone's longings for perfection, both inside and out."—The Atlanta Journal-Constitution
"Daniel Black understands the racial psychology and culture of the South so well that he can show, not tell, and his characters' actions always ring true. This novel is a powerful exploration of a small group of individuals who hold each other in high regard. The love among members of this family is severely challenged, but the challenge is triumphantly met. Each child grows to manhood and achieves success according to his gifts. Through their lives we experience disappointment and sorrow, but also fulfillment and joy. Perfect Peace is an intense and satisfying read."
–Greg Iles, New York Times bestselling author of The Devil's Punchbowl
"Part cautionary tale, part folktale, part fable, Daniel Black's Perfect Peace is a complete triumph. It bursts with emotions as intense as opera. Perfect Peace will bring you to tears and laughter. You will recognize characters from your own life, and perhaps even recognize yourself. In Emma Jean Peace, a mid-20th-Century rural Southern black woman who wants a daughter so desperately that she raises her infant son as a girl, Dr. Black has created a character as complex, equivocal and unforgettable as Scarlett O'Hara."
— Larry Duplechan, author of Blackbird, Captain Swing, and the Lambda Literary Award-winning Got 'Til It's Gone
Paperback: 352 pages
Publisher: St. Martin's Griffin; Reprint edition (December 6, 2011)
Language: English
ISBN-10: 0312571658
ISBN-13: 978-0312571658
About the author
Daniel Omotosho Black was raised in Blackwell, Arkansas and now teaches at Clark Atlanta University in Atlanta, Georgia. He earned a Ph.D. in African-American Studies from Temple University, then returned to Clark Atlanta as a professor with the hopes of inspiring young black minds to believe in themselves. His heart's desire is to write literature that celebrates that which is African-American and teaches the world how to be more human. He is the author of They Tell Me of a Home and The Sacred Place.
Buy this book!
This book is available for immediate purchase via these links to Amazon.com and Amazon.de; a percentage of your purchase comes right back to the site developer. Thanks for the support!
You can also find English books in Germany via our list of neighborhood bookstores.
Happy reading!