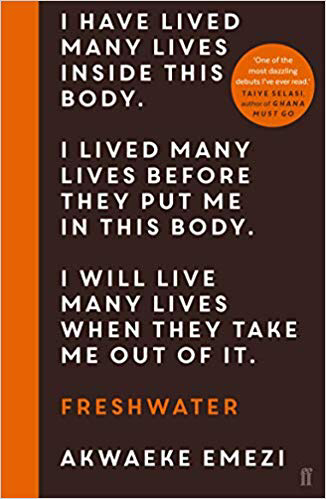 By Akwaeke Emezi
Paperback. 224 pages.
ISBN-10: 0571349277
ISBN-13: 978-0571349272
Ada begins her life in the south of Nigeria as a troubled baby and a source of deep concern to her family. Her parents, Saul and Saachi, successfully prayed her into existence, but as she grows into a volatile and splintered child, it becomes clear that something went terribly awry. When Ada comes of age and moves to America for college, the group of selves within her grows in power and agency. A traumatic assault leads to a crystallization of her alternate selves: Asụghara and Saint Vincent. As Ada fades into the background of her own mind and these selves ― now protective, now hedonistic ― move into control, Ada's life spirals in a dark and dangerous direction.
Narrated from the perspective of the various selves within Ada, and based in the author's realities, Freshwater explores the metaphysics of identity and mental health, plunging the reader into the mystery of being and self. Freshwater dazzles with ferocious energy and serpentine grace, heralding the arrival of a fierce new literary voice.
Freshwater was a New York Times Notable Book as well as a finalist for the Center for Fiction's First Novel Prize, the PEN/Hemingway Award, the NYPL Young Lions Fiction Award, the Edmund White Award for Debut Fiction, and a Lambda Literary Award.
Buy now on Amazon or via your local English bookstore.
About the author
Akwaeke Emezi is an Igbo and Tamil writer and artist based in liminal spaces. Born and raised in Nigeria, they received their MPA from New York University and was awarded a 2015 Miles Morland Writing Scholarship. They won the 2017 Commonwealth Short Story Prize for Africa. Their work has been published in various literary magazines, including Granta. Freshwater is their debut novel.