by Jane Gardam
UK. 289 pages. 2006.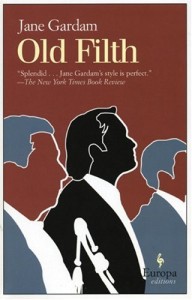 This mordantly funny novel examines the life of Sir Edward Feathers, a desiccated barrister known to colleagues and friends as Old Filth (the nickname stands for "Failed in London Try Hong Kong"). After a lucrative career in Asia, Filth settles into retirement in Dorset. With anatomical precision, Gardam reveals that, contrary to appearances, Sir Edward's life is seething with incident: a "raj orphan," whose mother died when he was born and whose father took no notice of him, he was shipped from Malaysia to Wales (cheaper than England) and entrusted to a foster mother who was cruel to him. What happened in the years before he settled into school, and was casually adopted by his best friend's kindly English country family, haunts, corrodes, and quickens Filth's heart; Gardam's prose is so economical that no moment she describes is either gratuitous or wasted. – The New Yorker
About the author
Jane Gardam (n. Jean Mary Pearson, 11 July 1928) is a British author, writing works for children and adults. She was educated at the University of London's Bedford College (now the Royal Holloway and Bedford New College) where she studied English.
With the publication of her first novel Black Faces, White Faces (1975), Gardam launched herself into award-winning recognition. She is the winner of the David Higham Prize for Fiction, the Winifred Holtby Memorial Prize, the Whitbread Novel Award, as well as the Heywood Hill Literary Prize for her lifetime contribution to the enjoyment of books (no longer awarded).
Gardam's God on the Rocks (1978) was shortlisted for the Booker Prize for Fiction.
Gardam continues to write—most recently The People on Privilege Hill (2007), a collection of short stories, and the novel The Man in the Wooden Hat (2009).
Order this book
When you order this book on Amazon.com or Amazon.de, a percentage of the price is goes right back into site maintenance and development! Go ahead—buy your books and support TheBookerTea.com.