by Patrick McGuinness
Paperback: 384 pages
Publisher: Bloomsbury USA (May 22, 2012)
ISBN: 978-1608199129
Once the gleaming "Paris of the East," Bucharest in 1989 is a world of corruption and paranoia, in thrall to the repressive regime of Nicolae Ceausescu. Old landmarks are falling to demolition crews, grocery shelves are empty, and informants are everywhere. Into this state of crisis, a young British man arrives to take a university post he never interviewed for. He is taken under the wing of Leo O'Heix, a colleague and master of the black market, and falls for the sleek Celia, daughter of a party apparatchik. Yet he soon learns that in this society, friendships are compromised, and loyalty is never absolute. And as the regime's authority falters, he finds himself uncomfortably, then dangerously, close to the eye of the storm.
By turns thrilling and satirical, studded with poetry and understated revelation, The Last Hundred Days captures the commonplace terror of Cold War Eastern Europe. Patrick McGuinness's first novel is unforgettable. — Amazon.com
About the author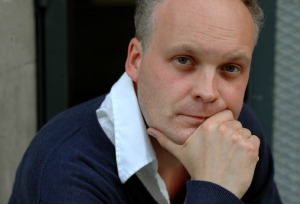 Patrick McGuinness was born in Tunisia in 1968.
He is currently a fellow of St. Anne's College, University of Oxford, where he lectures on French and Comparative Literature. His poetry has been published in various newspapers and journals including The Independent, London Review of Books and the Times Literary Supplement. He is the author and editor of several academic books and a translation of Mallarmé's For Anatole's Tomb (2003), which received a Poetry Book Society recommendation.
His first collection of poetry, The Canals of Mars (2004), was shortlisted for the Roland Mathias Prize and translated into Italian in 2006. His pamphlet collection, winner of the Poetry Business competition, is 19th Century Blues (2007).
The Last Hundred Days was published in 2011. It was shortlisted for the 2011 Costa First Novel Award and the 2012 Wales Book of the Year Award.
Buy this book!
The Last Hundred Days is available for immediate purchase via these links to Amazon.com and Amazon.de. When you make a purchase via this website, a percentage of the price goes right back into site maintenance and development. Thanks for the support!