by Margaret Atwood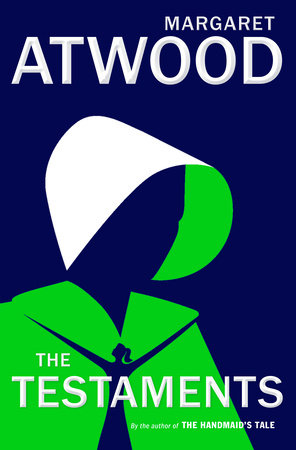 Paperback: 419 pages
Publisher: Random House LCC US (1 Jun 2020)
ISBN-10: 0525562621
ISBN-13: 978-0525562627
CO-WINNER OF THE BOOKER PRIZE 2019
SUNDAY TIMES NO. 1 BESTSELLER
Margaret Atwood's dystopian masterpiece, The Handmaid's Tale, is a modern classic. Now she brings the iconic story to a dramatic conclusion in this riveting sequel.
More than fifteen years after the events of The Handmaid's Tale, the theocratic regime of the Republic of Gilead maintains its grip on power, but there are signs it is beginning to rot from within. At this crucial moment, the lives of three radically different women converge, with potentially explosive results. Two have grown up as part of the first generation to come of age in the new order. The testimonies of these two young women are joined by a third voice: a woman who wields power through the ruthless accumulation and deployment of secrets.
As Atwood unfolds The Testaments, she opens up the innermost workings of Gilead as each woman is forced to come to terms with who she is and how far she will go for what she believes.
Buy now on Amazon or via your local English bookstore.
About the author
Margaret Atwood is Canada's most eminent novelist and poet, and also writes short stories, critical studies, screenplays, radio scripts and books for children; her works have been translated into over 30 languages. Her reviews and critical articles have appeared in various eminent magazines and she has also edited many books, including The New Oxford Book of Canadian Verse in English (1983) and, with Robert Weaver, The Oxford Book of Canadian Short Stories in English (1986). She has been a full-time writer since 1972, first teaching English, then holding a variety of academic posts and writer residencies. She was President of the Writers Union of Canada from 1981-1982 and President of PEN, Canada from 1984-1986. Her first publication was a book of poetry, The Circle Game (1964), which received the Governor General's Literary Award for Poetry (Canada). Several more poetry collections have followed, including Interlunar (1988), Morning in the Burned House (1995) and Eating Fire: Selected Poetry, 1965-1995 (1998). Her books of short fiction include Dancing Girls and Other Stories (1982), Wilderness Tips (1991) and Good Bones (1992).
She is perhaps best known, however, for her novels, in which she creates strong, often enigmatic, women characters and excels in telling open-ended stories, while dissecting contemporary urban life and sexual politics. Her first novel was The Edible Woman (1969), about a woman who cannot eat and feels that she is being eaten. This was followed by: Surfacing (1973), which deals with a woman's investigation into her father's disappearance; Lady Oracle (1977); Life Before Man (1980); Bodily Harm (1982), the story of Rennie Wilford, a young journalist recuperating on a Caribbean island; and The Handmaid's Tale (1986), a futuristic novel describing a woman's struggle to break free from her role. [She started her writing of the novel while traveling in West Berlin in 1984. – Tammi] She subsequently published Cat's Eye (1989), dealing with the subject of bullying among young girls; The Robber Bride (1993); Alias Grace (1996), the tale of a woman who is convicted for her involvement in two murders about which she claims to have no memory; The Blind Assassin (2000), a multi-layered family memoir; and Oryx and Crake (2003), a vision of a scientific dystopia, which was shortlisted for the 2003 Man Booker Prize for Fiction and for the 2004 Orange Prize for Fiction. Alias Grace, The Handmaid's Tale and Cat's Eye were all shortlisted for the Booker Prize for Fiction; The Blind Assassin won this prize in 2000.
Read more about Margaret Atwood on https://literature.britishcouncil.org/writer/margaret-atwood