by Alaa Al Aswany
Paperback, 454 pages
Published by Knopf (2021)
ISBN: ‎ 978-0571347612
Cairo, 2011. After decades under a repressive regime, tensions are rising in the city streets. No one is out of reach of the revolution. There is General Alwany, a high-ranking member of the government's security agency, a pious man who loves his family yet won't hesitate to torture enemies of the state; Asma, a young teacher who chafes against the brazen corruption at her school; Ashraf, an out-of-work actor who is having an affair with his maid and who gets pulled into Tahrir Square through a chance encounter; Nourhan, a television personality who loyally defends those in power; and many more.

As these lives collide, a new generation finds a voice, love blossoms across class divides, and the revolution gains strength. Even the general finds himself at a crossroads as his own daughter joins the protests. Yet the old regime will not give up without a fight.

With an unforgettably vivid cast of characters and a heart-pounding narrative banned across much of the region, Alaa Al Aswany gives us a deeply human portrait of the Egyptian Revolution, and an impassioned retelling of his country's turbulent recent history.
Buy via your neighborhood English bookstore in Germany.
About the author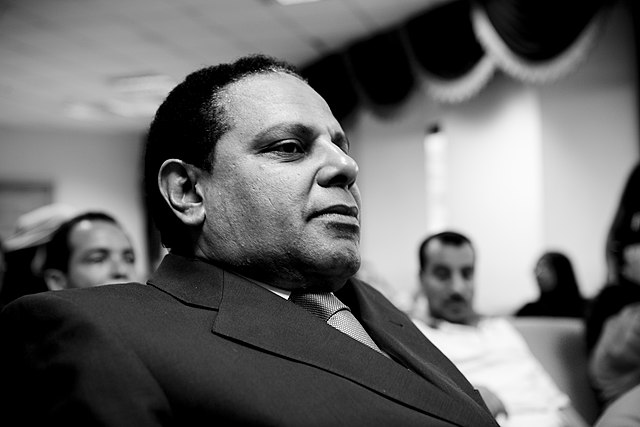 Alaa Al Aswany originally trained as a dentist and retains his own dental practice in Cairo. His novel The Yacoubian Building has sold over one million copies worldwide and was the bestselling novel in the Arab world for over five years. His work has been translated into more than thirty languages and published in over one hundred countries. He speaks Arabic, English, French, and Spanish. Al Aswany has received many awards internationally, including the Bashrahil Award for the Arabic novel, the Kafavis Award from Greece, and the Grinzane Cavour Award from Italy, and was named by The Times as one of the fifty best authors to have been translated into English over the last fifty years. In 2016, he was appointed a Chevalier de l'Ordre des Arts et des Lettres of France.