by Miguel Angel Asturias
Paperback: 287 pages
Publisher: Waveland Pr Inc (August 1997)
ISBN: 978-0881339512
Guatemalan diplomat and writer Miguel Angel Asturias (1899-1974) began this award-winning work while still a law student. It is a story of ruthless dictator and his schemes to dispose of a political adversary in an unnamed Latin American country usually identified as Guatemala. The book has been acclaimed for portraying both a totalitarian government and its damaging psychological effects. Drawing from his experiences as a journalist writing under repressive conditions, Asturias employs such literary devices as satire to convey the government's transgressions and surrealistic dream sequences to demonstrate the police state's impact on the individual psyche.
Asturias's stance against all forms of injustice in Guatemala caused critics to view the author as a compassionate spokesperson for the oppressed. "My work," Asturias promised when he accepted the Nobel Prize, "will continue to reflect the voice of the people, gathering their myths and popular beliefs and at the same time seeking to give birth to a universal consciousness of Latin American problems." — Amazon.com
About the author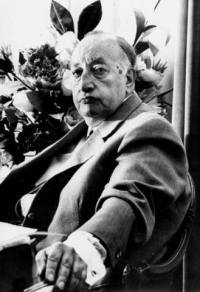 Miguel Angel Asturias Rosales (October 19, 1899 – June 9, 1974) was a Nobel Prize-winning Guatemalan poet-diplomat, novelist, playwright and journalist. Asturias helped establish Latin American literature's contribution to mainstream Western culture, and at the same time drew attention to the importance of indigenous cultures, especially those of his native Guatemala.
Asturias was born and raised in Guatemala though he lived a significant part of his adult life abroad. He first lived in Paris in the 1920s where he studied ethnology. Some scholars view him as the first Latin American novelist to show how the study of anthropology and linguistics could affect the writing of literature. While in Paris, Asturias also associated with the Surrealist movement, and he is credited with introducing many features of modernist style into Latin American letters. In this way, he is an important precursor of the Latin American Boom of the 1960s and 1970s.
After decades of exile and marginalization, Asturias finally received broad recognition in the 1960s. In 1966, he won the Soviet Union's Lenin Peace Prize. The following year he was awarded the Nobel Prize for Literature, only the second Latin American to receive this honor. Asturias spent his final years in Madrid, where he died at the age of 74. He is buried in the Père Lachaise Cemetery in Paris.
Buy this book!
The President is available for immediate purchase via these links to Amazon.com and Amazon.de. When you make a purchase via this website, a percentage of the price goes right back into site maintenance and development. Thanks for the support!