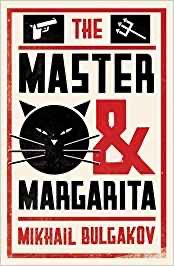 By Mikhail Bulgakov
Paperback: 440 pages.
ISBN-10: 1847497829
ISBN-13: 978-1847497826
Russia's literary world is shaken to its foundations when a mysterious gentleman – a professor of black magic – arrives in Moscow, accompanied by a bizarre retinue of servants. It soon becomes clear that he is the Devil himself, come to wreak havoc among the cultural elite of a disbelieving capital. But the Devil's mission quickly becomes entangled with the fate of the Master – a man who has turned his back on his former life and taken refuge in a lunatic asylum – and his past lover, Margarita.
Mikhail Bulgakov's fantastical, funny, and devastating satire of Soviet life combines two distinct yet interwoven parts, one set in contemporary Moscow, the other in ancient Jerusalem, each brimming with historical, imaginary, frightful, and wonderful characters.
Written during the darkest days of Stalin's reign, and finally published in 1966 and 1967, The Master and Margarita became a literary phenomenon. Both a satirical romp and a daring analysis of the nature of good and evil, innocence and guilt, The Master and Margarita is the crowning achievement of one of the greatest Russian writers of the twentieth century.
Buy now on Amazon or via your local English bookstore.
About the author
Mikhail Afanasyevich Bulgakov was a Russian writer, medical doctor and playwright active in the first half of the 20th century. He is best known for his novel The Master and Margarita, published posthumously, which has been called one of the masterpieces of the 20th century.