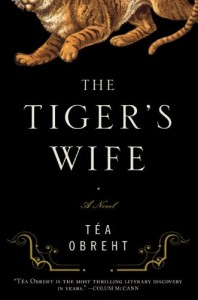 by Téa Obreht
Former Yugoslavia. 2011. 352 pages.
In a Balkan country mending from war, Natalia, a young doctor, is compelled to unravel the mysterious circumstances surrounding her beloved grandfather's recent death. Searching for clues, she turns to his worn copy of The Jungle Book and the stories he told her of his encounters over the years with "the deathless man." But most extraordinary of all is the story her grandfather never told her—the legend of the tiger's wife.
About the author
Téa Obreht was born in 1985 in the former Yugoslavia, and spent her childhood in Cyprus and Egypt before eventually immigrating to the United States in 1997. Her writing has been published in The New Yorker, The Atlantic, Harper's, Zoetrope: All-Story, The New York Times, and The Guardian, and has been anthologized in The Best American Short Stories and The Best American Non-Required Reading. She has been named by The New Yorker as one of the twenty best American fiction writers under forty and included in the National Book Foundation's list of 5 Under 35. Téa Obreht lives in Ithaca, New York. The Tiger's Wife is her first novel. (Text and image credits: the author's website)
Buy this book!
The Tiger's Wife is available for immediate purchase via these links to our Amazon.com and Amazon.de shops. When you make a purchase via this website, a percentage of the price goes right back into site maintenance and development. Thanks for the support!