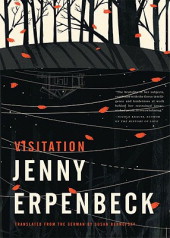 by Jenny Erpenbeck
Germany. 2008. 176 pages.
By the side of a lake in Brandenburg, a young architect builds the house of his dreams—a summerhouse with wrought-iron balconies, stained-glass windows the color of jewels, and a bedroom with a hidden closet, all set within a beautiful garden. But the land on which he builds has a dark history of violence that began with the drowning of a young woman in the grip of madness and that grows darker still over the course of the century: the Jewish neighbors disappear one by one; the Red Army requisitions the house, burning the furniture and trampling the garden; a young East German attempts to swim his way to freedom in the West; a couple return from brutal exile in Siberia and leave the house to their granddaughter, who is forced to relinquish her claim upon it and sell to new owners intent upon demolition. Reaching far into the past, and recovering what was lost and what was buried, Jenny Erpenbeck tells an exquisitely crafted, stealthily chilling story of a house and its inhabitants, and a country and its ghosts.
About the author
Jenny Erpenbeck (born March 12, 1967 in East Berlin[1]) is a German director and writer. From 1988 to 1990 Erpenbeck studied theatre at the Humboldt University of Berlin. In 1990 she changed her studies to music theater director at the Hanns Eisler Music Conservatory, graduating in 1994. As a freelance director, she directed in different opera houses in Germany and Austria, including Monteverdi's L'Orfeo in Aachen, Acis and Galatea at the Berlin State Opera and Wolfgang Amadeus Mozart's Zaide in Nuremberg/Erlangen.
In the 1990s Erpenbeck started a writing career in addition to her directing. She is author of narrative prose and plays: in 1999, History of the Old Child, her debut; in 2001, her collection of stories Trinkets; in 2004, the novella Dictionary; and in February 2008, the novel Visitation. In March 2007, Erpenbeck took over a biweekly column by Nicole Krauss in the Frankfurter Allgemeine Zeitung. Erpenbeck lives in Berlin with her son. (Text credit: Wikipedia; image credit: solothurner-literaturpreis.ch)
Buy this book!
Visitation is available for immediate purchase via these links to our Amazon.com and Amazon.de shops. When you make a purchase via this website, a percentage of the price goes right back into site maintenance and development. Thanks for the support!