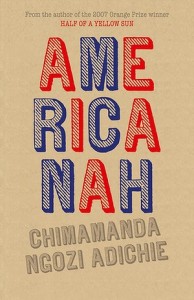 by Chimamanda Ngozi Adichie
Hardcover: 496 pages
Publisher: Knopf (May 14, 2013)
ISBN-10: 0307271080
ISBN-13: 978-0307271082
From the award-winning author of Half of a Yellow Sun, a dazzling new novel: a story of love and race centered around a young man and woman from Nigeria who face difficult choices and challenges in the countries they come to call home.
As teenagers in a Lagos secondary school, Ifemelu and Obinze fall in love. Their Nigeria is under military dictatorship, and people are leaving the country if they can. Ifemelu—beautiful, self-assured—departs for America to study. She suffers defeats and triumphs, finds and loses relationships and friendships, all the while feeling the weight of something she never thought of back home: race. Obinze—the quiet, thoughtful son of a professor—had hoped to join her, but post-9/11 America will not let him in, and he plunges into a dangerous, undocumented life in London.
Years later, Obinze is a wealthy man in a newly democratic Nigeria, while Ifemelu has achieved success as a writer of an eye-opening blog about race in America. But when Ifemelu returns to Nigeria, and she and Obinze reignite their shared passion—for their homeland and for each other—they will face the toughest decisions of their lives.
Fearless, gripping, at once darkly funny and tender, spanning three continents and numerous lives, Americanah is a richly told story set in today's globalized world: Chimamanda Ngozi Adichie's most powerful and astonishing novel yet.
About the author
Chimamanda Ngozi Adichie grew up in Nigeria. Her work has been translated into thirty languages and has appeared in various publications, including The New Yorker, Granta, The O. Henry Prize Stories, the Financial Times, and Zoetrope. She is the author of the novels Purple Hibiscus, which won the Commonwealth Writers' Prize and the Hurston/Wright Legacy Award, and Half of a Yellow Sun, which won the Orange Prize and was a National Book Critics Circle Award Finalist, a New York Times Notable Book, and a People and Black Issues Book Review Best Book of the Year; and the story collection The Thing Around Your Neck. Her new novel, Americanah, was published around the world in April and May 2013.
A recipient of a MacArthur Foundation Fellowship, she divides her time between the United States and Nigeria.
Buy this book!
Americanah is available for immediate purchase via these links to Amazon.com and Amazon.de. When you make a purchase via this website, a percentage of the price goes right back into site maintenance and development. Thanks for the support!