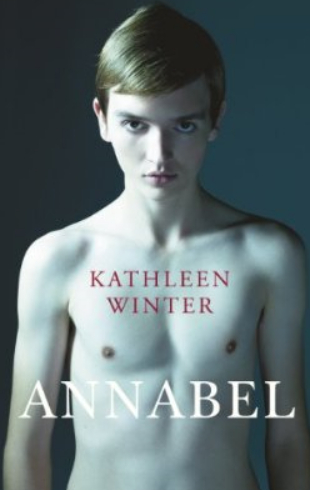 by Kathleen Winter
Paperback: 480 pages
Publisher: Grove Press, Black Cat; Original edition (January 4, 2011)
Language: English
ISBN-10: 080217082X
ISBN-13: 978-0802170828
Wayne, born into the harsh, rural landscape of Labrador, Canada, in 1968, is a hermaphrodite. It is his father who ultimately decides to raise him as a male and names him. Only Wayne's parents and their friend Thomasina Baikie, also present at his birth, are aware of his gender duality. The two women silently battle against Wayne's father's gender assignment, and as Wayne grows older, he must contend with the two genders struggling for dominance within him. His father, Treadway, a trapper who spends most of his time outdoors, works hard to steer Wayne away from his feminine side. His mother, Jacinta, becomes increasingly estranged from her husband as she mourns the loss of her female child. Following the tragic death of her husband and daughter, Thomasina travels the world and sends enticing postcards to Wayne of the world beyond his own.
A simple yet eloquent coming-of-age tale, this debut novel quietly questions our assumptions about gender by presenting us with a host of complex, evocative characters. A fantastic read that will appeal to fans of Jeffrey Eugenides' Middlesex (2002). — credit: Julie Hunt, Booklist
About the author:
Kathleen Winter (born February 25, 1960) is a Canadian short story writer and novelist.
Born in Bill Quay, near Gateshead in the north of England and raised in Newfoundland and Labrador, Winter began her career as a script writer for Sesame Street before becoming a columnist for The Telegram in St. John's. Her debut short story collection, boYs, was published in 2007 and won that year's Winterset Award and Metcalf-Rooke Award.
Her novel Annabel was published in 2010, and won the Thomas Head Raddall Award. It was a shortlisted nominee for the Scotiabank Giller Prize, the Rogers Writers' Trust Fiction Prize, and the 2010 Governor General's Awards. It held the distinction of being the only novel to make the short list of all three awards in 2010. In 2011 it was shortlisted for the 2011 Orange Prize for Fiction.
She lives in Montreal with her Québécois husband and is the sister of novelist Michael Winter. — credit: Wikipedia
Buy this book!
Annabel is available for immediate purchase via these links to Amazon.com and Amazon.de. When you make a purchase via this website, a percentage of the price goes right back into site maintenance and development. Thanks for the support!