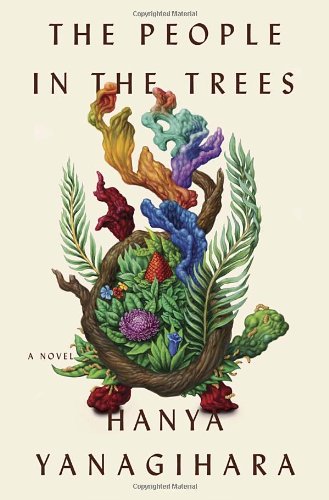 by Hanya Yanagihara
Paperback: 384 pages
Publisher: Anchor (May 6, 2014)
ISBN: 978-0345803313
In 1950, a young doctor called Norton Perina signs on with the anthropologist Paul Tallent for an expedition to the remote Micronesian island of Ivu'ivu in search of a rumored lost tribe. They succeed, finding not only that tribe but also a group of forest dwellers they dub "The Dreamers," who turn out to be fantastically long-lived but progressively more senile. Perina suspects the source of their longevity is a hard-to-find turtle; unable to resist the possibility of eternal life, he kills one and smuggles some meat back to the States. He scientifically proves his thesis, earning worldwide fame and the Nobel Prize, but he soon discovers that its miraculous property comes at a terrible price. As things quickly spiral out of his control, his own demons take hold, with devastating personal consequences. — Amazon.com
About the author
Hanya Yanagihara (b. 1975) is an editor at Conde Nast and the author of the 2013 novel The People in the Trees, a book that took her nearly 20 years to complete.
Raised in Hawaii and Texas, she moved to New York City to launch her career, working first in the publicity department of Vintage Books (Random House Publishing) and thereafter at Radar, Vibe, Departures, W, Brill's Content/Inside.com, and Riverhead Books (Penguin Publishers). From 1998 to 2008, she edited The Asian Pacific American Journal.
In 2005, Yanagihara joined Conde Nast Traveler, where she assigned and edited features, special sections, and essays. Her "Word of Mouth" section was nominated for a National Magazine Award in 2007. She also edited two Conde Nast Traveler books and launched the magazine's "Materialist" blog.
Yanagihara has edited a number of other works, including books by Suze Orman, J. Robert Lennon, and Man Booker Prize finalist Sarah Waters. Yanagihara also served as a New York Foundation for the Arts Literary Fellow in both 2001 and 2008.
Buy this book!
The People in the Trees is available for immediate purchase via these links to Amazon.com and Amazon.de. When you make a purchase via this website, a percentage of the price goes right back into site maintenance and development. Thanks for the support!