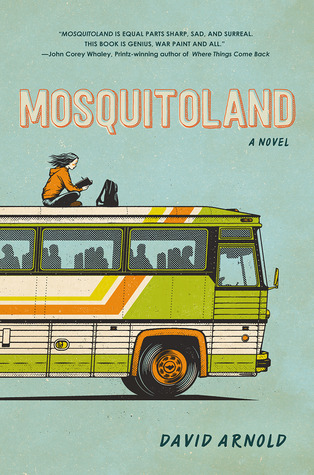 by David Arnold
Paperback: 352 pages
Publisher: Viking Books for Young Readers (March 3, 2015)
ISBN-10: 045147077X
ISBN-13: 978-0451470775
I am a collection of oddities, a circus of neurons and electrons: my heart is the ringmaster, my soul is the trapeze artist, and the world is my audience. It sounds strange because it is, and it is, because I am strange.
After the sudden collapse of her family, Mim Malone is dragged from her home in northern Ohio to the "wastelands" of Mississippi, where she lives in a medicated milieu with her dad and new stepmom. Before the dust has a chance to settle, she learns her mother is sick back in Cleveland.
So she ditches her new life and hops aboard a northbound Greyhound bus to her real home and her real mother, meeting a quirky cast of fellow travelers along the way. But when her thousand-mile journey takes a few turns she could never see coming, Mim must confront her own demons, redefining her notions of love, loyalty, and what it means to be sane.
Told in an unforgettable, kaleidoscopic voice, Mosquitoland is a
modern American odyssey, as hilarious as it is heartbreaking. A story of the difficulties we face and the strength we find to overcome them. For those who loved LITTLE MISS SUNSHINE, ALL THE BRIGHT PLACES, THE FAULT IN OUR STARS, and JUNO.
About the author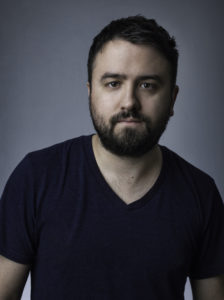 David Arnold lives in Lexington, Kentucky, with his (lovely) wife and (boisterous) son. He is the New York Times bestselling author of Kids of Appetite, Mosquitoland, and The Strange Fascinations of Noah Hypnotik, which has been optioned for film by Paramount. His books have been translated into over a dozen languages. Learn more at davidarnoldbooks.com and follow him on Twitter @roofbeam and Instagram @iamdavidarnold.
Buy this book!
Shopping for English books in Berlin, Germany? Take a look at one of these local independent booksellers or click this affiliate link to purchase via Amazon.