by Ahmed Saadawi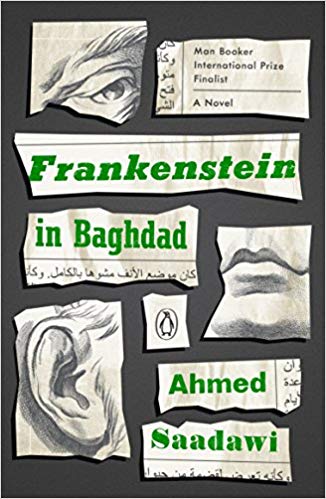 Paperback: 288 pages
Publisher: Penguin Books; Auflage: Translation (23. Januar 2018)
ISBN-10: 9780143128793
ISBN-13: 978-0143128793
Buy now on Amazon or via your local English bookstore.
From the rubble-strewn streets of U.S.-occupied Baghdad, Hadi—a scavenger and an oddball fixture at a local café—collects human body parts and stitches them together to create a corpse. His goal, he claims, is for the government to recognize the parts as people and to give them proper burial. But when the corpse goes missing, a wave of eerie murders sweeps the city, and reports stream in of a horrendous-looking criminal who, though shot, cannot be killed. Hadi soon realizes he's created a monster, one that needs human flesh to survive—first from the guilty, and then from anyone in its path. A prizewinning novel by "Baghdad's new literary star" (The New York Times), Frankenstein in Baghdad captures with white-knuckle horror and black humor the surreal reality of contemporary Iraq.
Man Booker International Prize finalist
Winner of the International Prize for Arabic Fiction
Winner of France's Grand Prize for Fantasy
"Brave and ingenious." —The New York Times
"Gripping, darkly humorous . . . profound." —Phil Klay, bestselling author and National Book Award winner for Redeployment
"Extraordinary . . . A devastating but essential read." —Kevin Powers, bestselling author and National Book Award finalist for The Yellow Birds
Amazon link: https://amzn.to/2zwZDF3
About the author
Ahmed Saadawi is an Iraqi novelist, poet, screenwriter and documentary filmmaker. In 2010 he was selected for Beirut39, as one of the thirty-nine best Arab authors under the age of forty, and in 2014 he became the first Iraqi to win the prestigious International Prize for Arabic Fiction. This prize was awarded to Frankenstein in Baghdad, which also won Le Grand Prix de L'Imaginaire in 2017. He lives in Baghdad.