by Hannah Kent
Paperback: 350 pages
Publisher: Back Bay Books (April 1, 2014)
ISBN: 978-0316243926
It is March 1829, and Agnes Magnúsdóttir has been sentenced to be beheaded for murdering her employer. Due to the cost of keeping her imprisoned, she is sent to the farm of district commissioner Jon Jonsson, where he lives with his wife and two daughters, until her execution. She arrives at the farm filthy, bruised, and bleeding due to the cruelty with which she has been treated during her imprisonment. The mistress of the farm immediately puts her to work scything the harvest, churning butter, and making sausages, while a young priest visits with her to prepare her soul for death. It is from their conversations that Agnes' story becomes known: abandonment by her mother condemns her to life as a pauper subject to the behest of her many employers, and her intelligence only makes her more of a target.
Kent's debut novel, she says, is my dark love letter to Iceland, and rarely has a country's starkness and extreme weather been rendered so exquisitely. The harshness of the landscape and the lifestyle of nineteenth-century Iceland, with its dank turf houses and meager food supply, is as finely detailed as the heartbreak and tragedy of Agnes' life, based on the true story of the last woman executed there. Haunting reading from a bright new talent. — Joanne Wilkinson, Booklist
About the author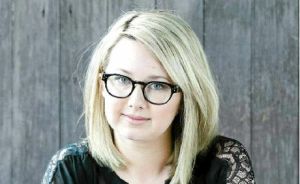 Hannah Kent was born in Adelaide, Australia in 1985. As a teenager she travelled to Iceland on a Rotary Exchange, where she first heard the story of Agnes Magnúsdóttir.
Hannah is the co-founder and publishing director of Australian literary journal Kill Your Darlings, and is completing her PhD at Flinders University. In 2011 she won the inaugural Writing Australia Unpublished Manuscript Award.
Burial Rites is her first novel. It has been translated into twenty languages.
Buy this book!
Burial Rites is available for immediate purchase via these links to Amazon.com and Amazon.de. When you make a purchase via this website, a percentage of the price goes right back into site maintenance and development. Thanks for the support!