by Dubravka Ugrešić
Croatia. 272 pages. 2005.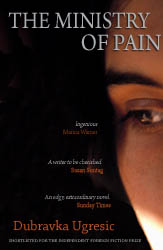 Having fled the violent breakup of Yugoslavia, Tanja Lucic is now a professor of literature at the University of Amsterdam, where she teaches a class filled with other young Yugoslav exiles, most of whom earn meager wages assembling leather and rubber S&M clothing at a sweatshop they call the "Ministry." Abandoning literature, Tanja encourages her students to indulge their "Yugonostalgia" in essays about their personal experiences during their homeland's cultural and physical disintegration. But Tanja's act of academic rebellion incites the rage of one renegade member of her class—and pulls her dangerously close to another—which, in turn, exacerbates the tensions of a life in exile that has now begun to spiral seriously out of control.
This novel poses some interesting philosophical questions–who are you, what are you, and what are your memories when your country has disintegrated and even your language has been politicized out of existence? Dubravka Ugrešić (The Museum of Unconditional Surrender, 2002) explores the many facets of displacement, taking the reader down a sometimes tricky linguistic path that ends up placing a Slavic twist on the notion that "you can't go home again." —text from the American Library Association and the publisher
About the author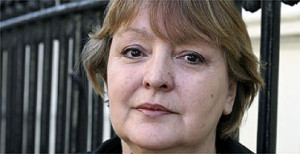 Dubravka Ugrešić was born in 1949 in (what used to be) Yugoslavia, in its republic Croatia. She earned her degrees in Comparative Literature and Russian Language and Literature at the University of Zagreb, and worked for twenty years at the Institute for Theory of Literature at Zagreb University, successfully pursuing parallel careers as a writer and a literary scholar.
She started writing professionally with screenplays for children's television programs, as an undergraduate. In 1971 she published her first book for children Mali plamen, which was awarded a prestigious Croatian literary prize for children's literature.
Ugrešić was best known in the former Yugoslavia for her fiction, novels and short stories. After the war broke out in 1991, she was proclaimed a "traitor", a "public enemy" and a "witch." Ostracized and exposed to harsh and persistent media harassment, she left Croatia in 1993.
Ugrešić has continued writing since she began living abroad. She has published both novels and books of essays. Ugrešić's essays have appeared in American (Context, The Hedgehog Review) and European newspapers and magazines (such as Vrij Nederland, NRC Handelsblad, Die Zeit, Neue Zurcher Zeitung, , and many others). She teaches occasionally at American and European universities.
Dubravka Ugrešić's books have been translated into more then twenty languages and have received several major European literary awards. She is based in Amsterdam today, working as a freelance writer.
Order this book
When you order this book on Amazon.com or Amazon.de, a percentage of the price goes right back into site maintenance and development! Go ahead—buy your books and support TheBookerTea.com.