by Yvonne Adhiambo Owuor
Paperback: 384 pages
Publisher: Vintage (October 7, 2014)
ISBN: 978-0345802545
Odidi Oganda, running for his life, is gunned down in the streets of Nairobi. His grief-stricken sister, Ajany, just returned from Brazil, and their father bring his body back to their crumbling home in the Kenyan drylands, seeking some comfort and peace.
But the murder has stirred memories long left untouched and unleashed a series of unexpected events: Odidi and Ajany's mercurial mother flees in a fit of rage; a young Englishman arrives at the Ogandas' house, seeking his missing father; a hardened policeman who has borne witness to unspeakable acts reopens a cold case; and an all-seeing Trader with a murky identity plots an overdue revenge.
In scenes stretching from the violent upheaval of contemporary Kenya back through a shocking political assassination in 1969 and the Mau Mau uprisings against British colonial rule in the 1950s, we come to learn the secrets held by this parched landscape, buried deep within the shared past of the family and of a conflicted nation. — Amazon.com
About the author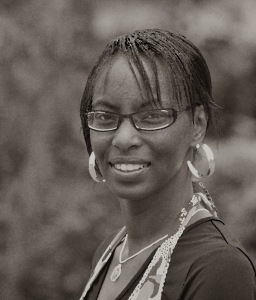 Yvonne Adhiambo Owuor (born 1968) is a Kenyan writer, who was named "Woman of the Year" by Eve Magazine in Kenya in 2004 for her contribution to the country's literature and arts. Born in Nairobi, Owuor studied English at Jomo Kenyatta University, before taking an MA in TV/Video development at Reading University. She has worked as a screenwriter and was the Executive Director of the Zanzibar International Film Festival from 2003 to 2005. Her short story "Weight of Whispers" was the 2003 winner of the Caine Prize. Her writing has appeared in numerous publications worldwide including Kwani? and McSweeney's, and her story "The Knife Grinder's Tale" was made into a short film in 2005.
In 2014, her novel "Dust" received widespread critical recommendations as a vivid and often poetic portrayal of the violent history of Kenya in the second half of the 20th century.
Buy this book!
Dust is available for immediate purchase via these links to Amazon.com and Amazon.de. When you make a purchase via this website, a percentage of the price goes right back into site maintenance and development. Thanks for the support!