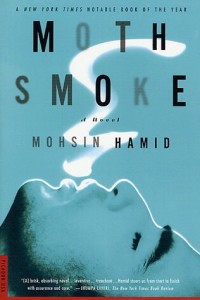 by Mohsin Hamid
When Daru Shezad is fired from his banking job in Lahore, he begins a decline that plummets the length of this sharply drawn, subversive tale. Before long, he can't pay his bills, and he loses his toehold among Pakistan's cell-phone-toting elite. Daru descends into drugs and dissolution, and, for good measure, he falls in love with the wife of his childhood friend and rival, Ozi—the beautiful, restless Mumtaz.
Desperate to reverse his fortunes, Daru embarks on a career in crime, taking as his partner Murad Badshah, the notorious rickshaw driver, populist, and pirate. When a long-planned heist goes awry, Daru finds himself on trial for a murder he may or may not have committed. The uncertainty of his fate mirrors that of Pakistan itself, hyped on the prospect of becoming a nuclear player even as corruption drains its political will.
Fast-paced and unexpected, Moth Smoke portrays a contemporary Pakistan as far more vivid and disturbing than the exoticized images of South Asia familiar to most of the West. This debut novel establishes Mohsin Hamid as a writer of substance and imagination.
Genre: Generic / Popular Fiction, War / Political Turmoil Fiction
No. of Pages: 256
In paperback? Yes
About the Author
Mohsin Hamid is the author of three novels, Moth Smoke, The Reluctant Fundamentalist, and How to Get Filthy Rich in Rising Asia, and a book of essays, Discontent and Its Civilizations.
His writing has been featured on bestseller lists, adapted for the cinema, shortlisted for the Man Booker Prize, selected as winner or finalist of twenty awards, and translated into thirty-five languages.
Born in Lahore, he has spent about half his life there and much of the rest in London, New York, and California. – from the author's website