by Kamila Shamsie
Pakistan. 384 pages. 2009.
Beginning on August 9, 1945, in Nagasaki, and ending in a prison cell in the U.S. in 2002, as a man is waiting to be sent to Guantanamo Bay, Burnt Shadows is an epic narrative of love and betrayal.
Hiroko Tanaka is twenty-one and in love with the man she is to marry, Konrad Weiss. As she steps onto her veranda, wrapped in a kimono with three black cranes swooping across the back, her world is suddenly and irrevocably altered. In the numbing aftermath of the atomic bomb that obliterates everything she has known, all that remains are the bird-shaped burns on her back, an indelible reminder of the world she has lost. In search of new beginnings, two years later, Hiroko travels to Delhi. It is there that her life will become intertwined with that of Konrad's half sister, Elizabeth, her husband, James Burton, and their employee Sajjad Ashraf, from whom she starts to learn Urdu.
With the partition of India, and the creation of Pakistan, Hiroko will find herself displaced once again, in a world where old wars are replaced by new conflicts. But the shadows of history–personal and political–are cast over the interrelated worlds of the Burtons, the Ashrafs, and the Tanakas as they are transported from Pakistan to New York and, in the novel's astonishing climax, to Afghanistan in the immediate wake of 9/11. The ties that have bound these families together over decades and generations are tested to the extreme, with unforeseeable consequences.
About the author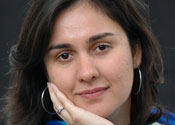 Kamila Shamsie (b. 1973) is a Pakistani novelist, raised in Karachi, who writes in the English language. She has a BA in Creative Writing from Hamilton College and an MFA from the MFA Program for Poets & Writers at the University of Massachusetts, Amherst, where she was influenced by the Kashmiri poet Agha Shahid Ali.
Shamsie wrote her first novel, In The City By The Sea (1998), while she was still at UMass. It was shortlisted for the John Llewellyn Rhys Prize in the UK, and she received the Prime Minister's Award for Literature in Pakistan in 1999. Her second novel, Salt and Saffron, followed in 2000, after which she was selected as one of Orange's 21 Writers of the 21st century. Her third novel, Kartography, received widespread critical acclaim and was shortlisted for the John Llewellyn Rhys award in the UK. Both Kartography and her next novel, Broken Verses, have won the Patras Bukhari Award from the Academy of Letters in Pakistan.
Shamsie's Burnt Shadowswas shortlisted for the Orange Prize for Fiction.
Order this book
When you order this book on Amazon.com or Amazon.de, a percentage of the price goes right back into site maintenance and development! Go ahead—buy your books and support TheBookerTea.com.